Fresh Dental Hygiene Care
We are committed towards improving the overall health within our community by providing greater access to oral health, dental hygiene care (cleanings), and a variety of other oral hygiene services, including education, in a safe and responsible environment

Call Us @
905-800-0288we are happy to help
Welcome to Fresh Dental Hygiene Care
Port Hope's Dental Hygiene Care
There's a reason why Fresh Dental Hygiene Care comes highly recommended in the Port Hope area, and part of it has to do with maintaining a relationship with our clients and the wider community, and striving to deliver quality care at a cost that is typically less than in a traditional dental office.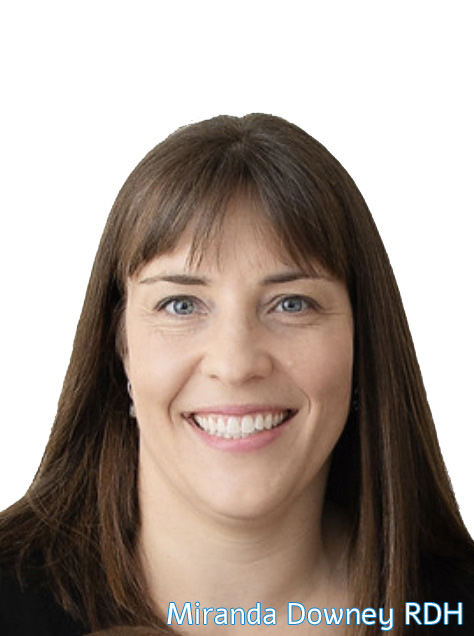 Oral Assessment
Complete Intra-Oral and Extra-Oral assessment. Everyone will receive an extra-oral examination of the head and neck to identify suspicious lesions or growths and an intra-oral examination to identify areas of immediate or long-term concern regarding gum and bone health.

Cleaning (Scaling)

Cleaning or Scaling teeth involves the gentle removal of plaque and tartar situated above and below the gum line. This will aid in the treatment of gum and bone disease, (gingivitis and periodontal disease), that will improve the health of your mouth as well as your overall health. The amount of time required to complete the cleaning depends on the condition of your gums and the amount of tartar you have.

Polishing / Stain Removal
A dental polishing usually follows a dental scaling but can also be done between cleanings for special occasions. This will brighten your smile. Polishing teeth will remove stain caused by drinking coffee, tea, colas, wine and smoking.

Desensitizing
Sensitive teeth, due to gum recession or brushing too hard can be treated by applying a desensitizing agent that coats the exposed areas and your teeth will be less sensitive.

Laser Bacterial Reduction (LBR)
Periodontal disease affects nearly 80% of adults in North America, and there have been many studies linking periodontal disease to heart disease, kidney failure, diabetes, Alzheimer's, and stroke.
This is due to the inflammation caused by bacteria which invades the pockets in the gums around the teeth. There is also a possibility of harmful bacteria entering the blood stream.
. An effective new tool in our offices' arsenal is Laser Bacterial Reduction (LBR) which
uses a non-cutting dental laser which is focused around the teeth and into the periodontal pockets.
The benefits of Laser Bacterial Reduction make the treatment a worthwhile investment. They include reduced risk of cross-contamination within the mouth during cleaning and treatments, boosting the immune system, and an overall improvement to health. LBR also stimulates the periodontal tissues, making them more resistant to infection.
LBR only take 5-10 minutes.

Oral Cancer Screening
Approximately 3200 Canadians are diagnosed with oral cancer every year. Most mouth cancers are not uncomfortable or painful. Through regular screening, mouth cancer can be detected in its' early stages. The Oral cancer screening exam is to check your mouth to see if there are any abnormalities that need to be followed up and any significant findings can then be referred for biopsy for an actual diagnosis. Our office uses 'VELscope' technology to aid in this screening process.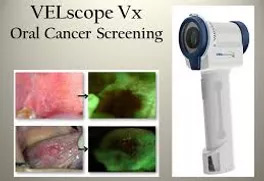 MOST SERVICES ARE COVERED BY MOST DENTAL INSURANCE PROVIDERS AND WE OFFER DIRECT BILLING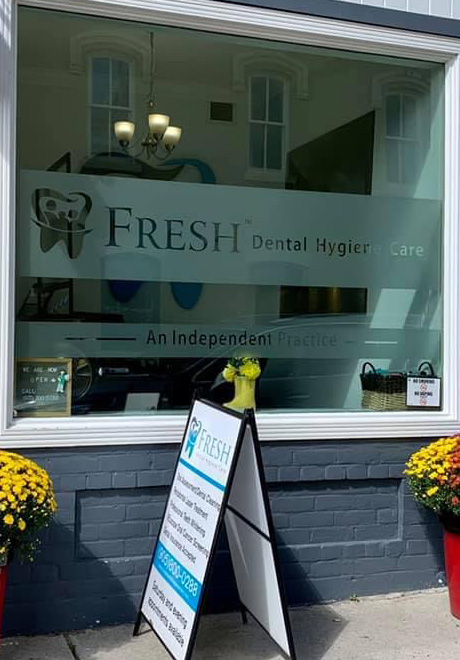 Call Us Today!
905-800-0288
Make an Appointment Today
We're here for you when you need us! Call us to schedule an appointment, send us an email or fill out the form below and we'll get back to you as soon as possible.
LOOKING FOR A BRIGHTER SMILE?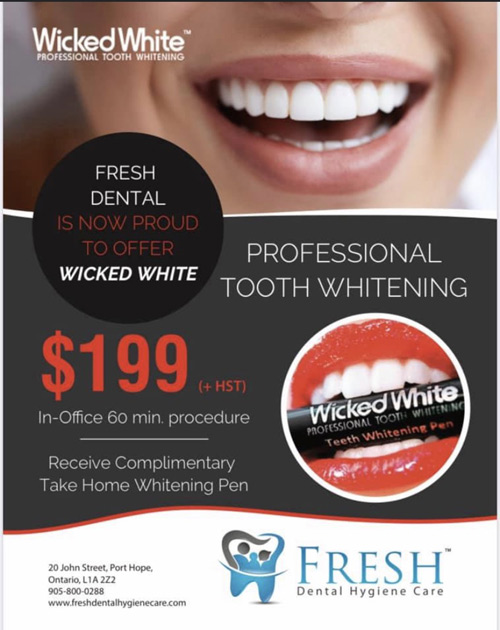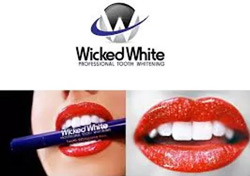 We NOW are pleased to offer "Wicked White" Professional Whitening with Professional Results!
This is a very safe, simple 60 minute visit – OR – for our regular cleaning clients, you may decide to add a 15 minute 'Mini Whitening' session after your cleanings to help maintain your sparkle all year round!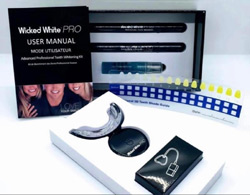 Thank You For Considering Us!
Thank you for considering our dental hygiene office. Our clients are promised the finest preventive dental care by experienced and caring professionals in a safe, friendly & clean environment.
We believe in providing quality care and using the latest technologies to achieve optimal oral health. We provide a thorough assessment, individualized, evidence based planning and comprehensive treatment. Ethical practice is the foundation of trust and it's vital to the success of our practice and the maintenance of the highest standard of care!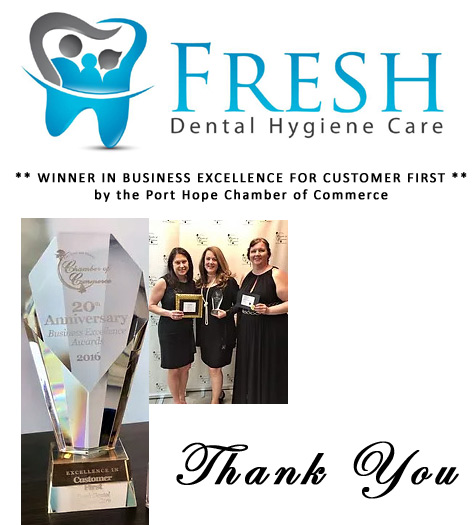 Your Smile is Our Biggest Reward


Friendly person and a great hygienist
Kathy Stoter
Brenda is a friendly person and a great hygienist. She is caring, kind and alleviates the stress l have when going for a dental cleaning. I have been a patient for a few years now and highly recommend her.


Caring for the health of her patients
Wendy Reddom
Brenda is truly a kind, caring, compassionate person who is passionate in her belief in caring for the health of her patients. She provides a safe environment for those of us who may not be comfortable with having dental work done.


Awesome experience and look forward to going back!
Simon Genich
Highly recommend Miranda! Awesome experience and look forward to going back!


Best dental experience I've ever had!
Alison Poole
I highly recommend Miranda at Fresh Dental. Today was my first visit and I'll definitely be going back. Best dental experience I've ever had!


Couldn't be happier with the results
Liz Dowie
Brenda at Fresh Dental is great. I had my teeth whitened today and couldn't be happier with the results. Thanks so much!!


It's great to be with people who care
Layne Cater
Fresh Dental is a great concept – great people, great surroundings. Thanks for looking me up Natalie! It's great to be with people who care.